FELK Camping Trailers
Felks build a range of custom-designed trailer bases or boxes to suit camping needs, whether it be to hold a commercially purchased tent top (not supplied by Felks), to carry the camping gear or to provide a base for a DIY project yourself.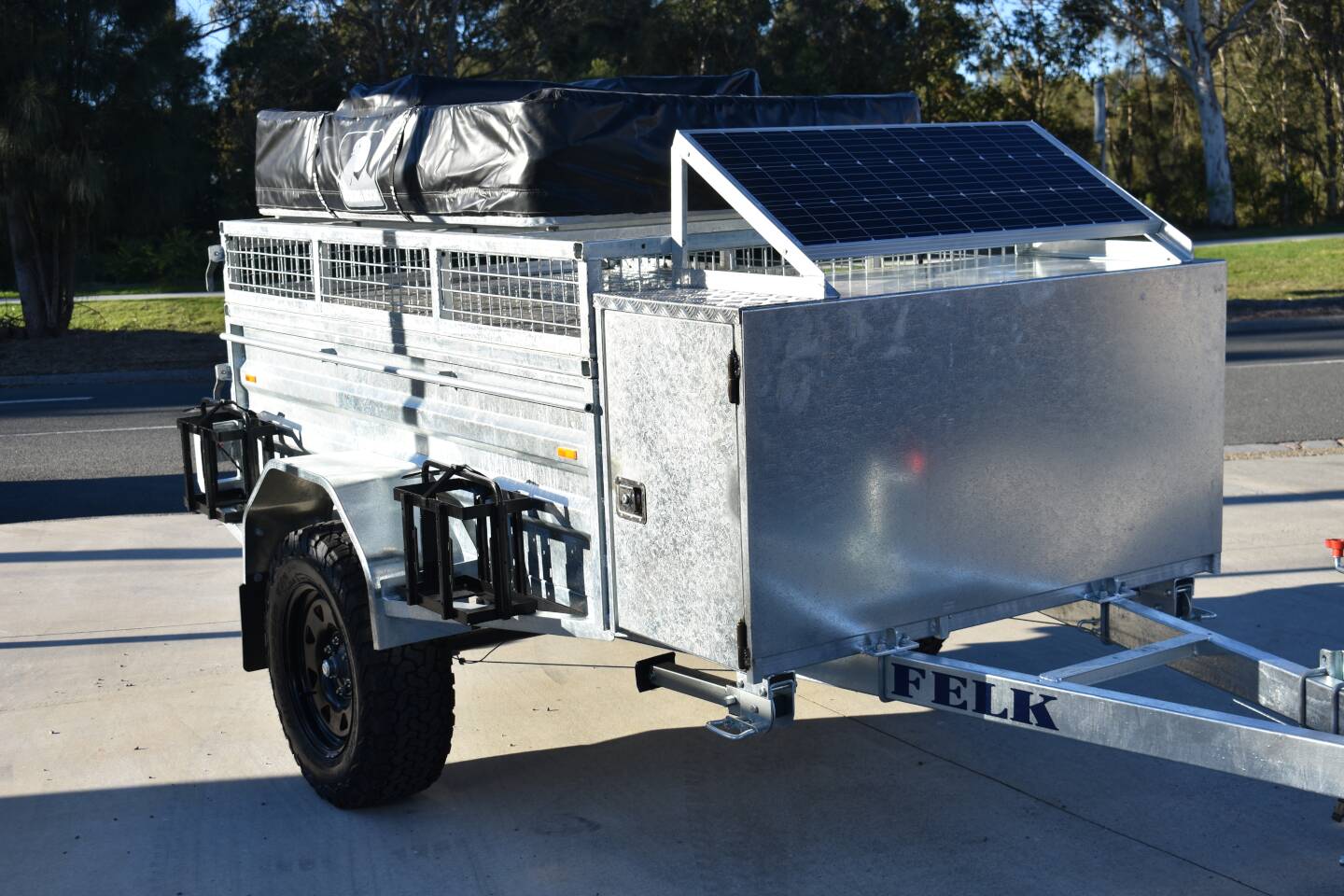 Camper type trailers are specifically designed for off-road use of varying terrains (from undulated dirt roads to extreme off-road use).
Camping requirements are always unique, so we aim to manufacture these to be as modular as possible. People have the ability to mount solar panels, shovels, rooftop tens, jerry cans, gas bottle holders and more.
Whilst we can manufacture these in various weight capacities, customers requiring this type of trailer generally prefer a single axle model, up to 2,000kg GVM however a tandem trailer base can also be useful in higher weight ratings.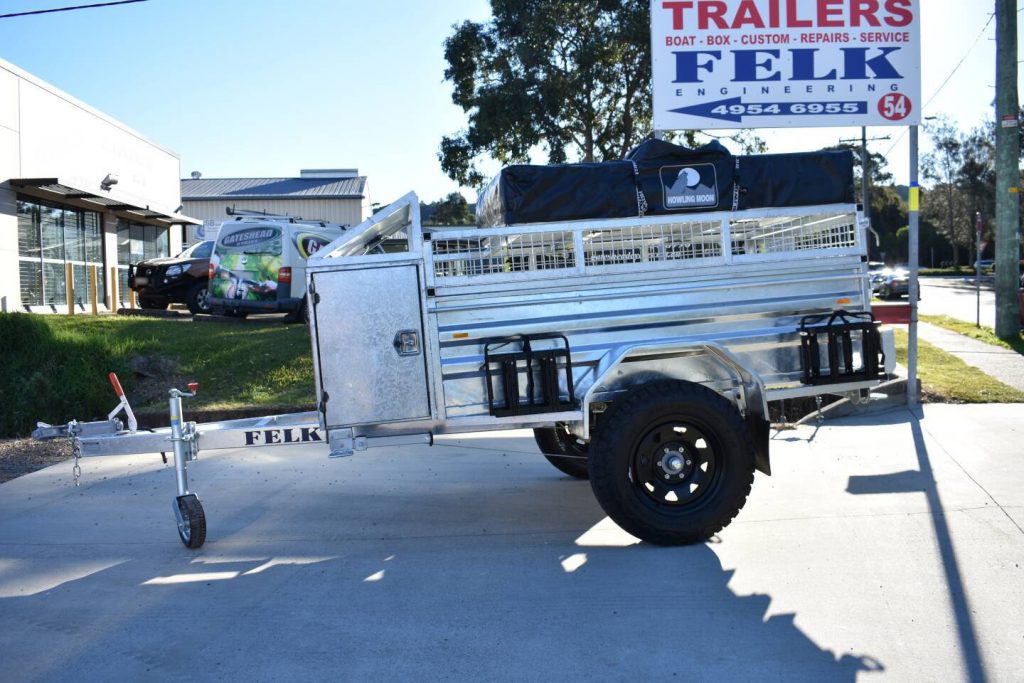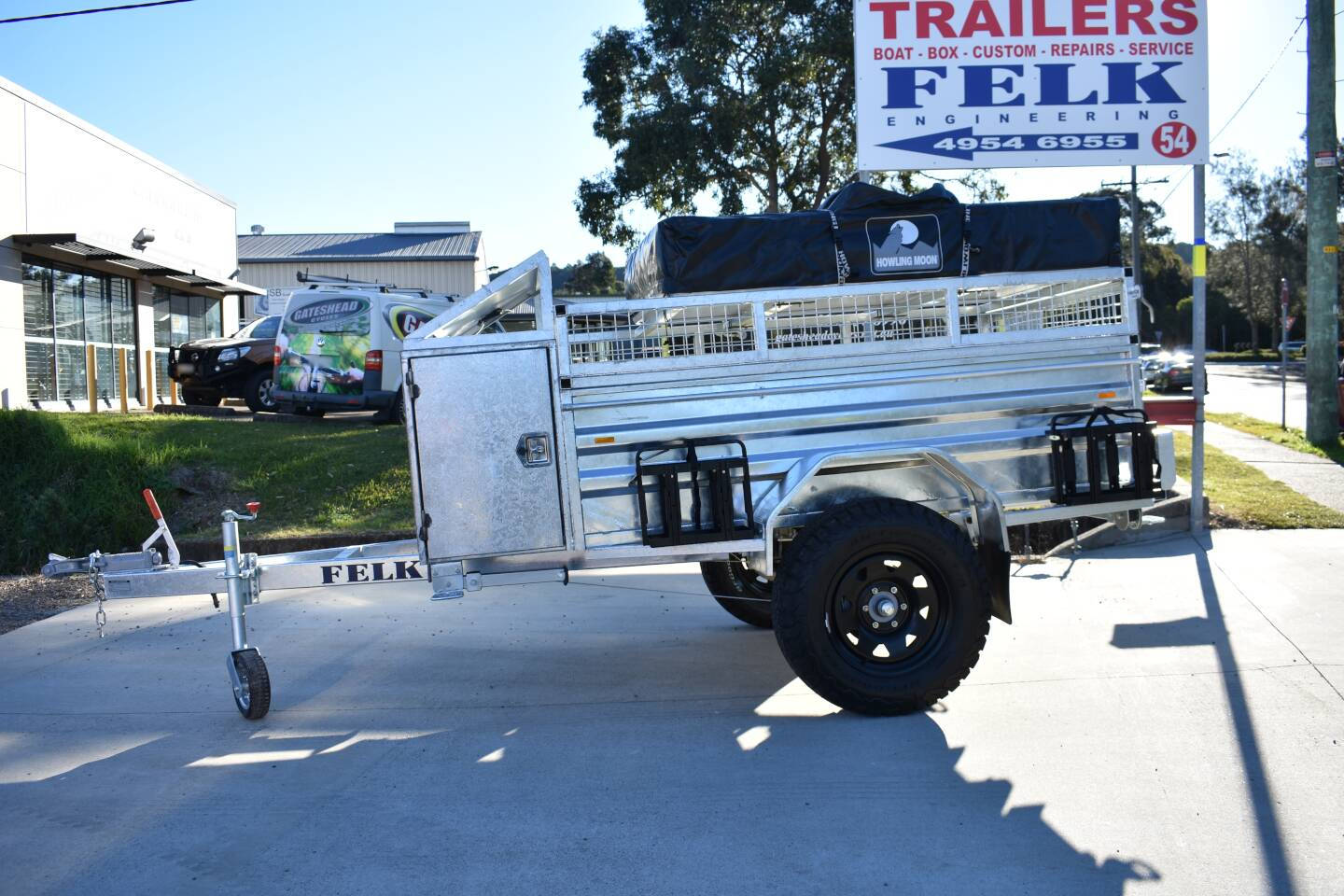 We understand the Australian climate and road conditions, which are not known to be forgiving. We design our trailers to exceed requirements which will take these extreme conditions.
FELK Camper Trailer bases can defeat the toughest roads in Australia
Felk has developed a reputation as manufacturing the most robust trailers in Australia. For this reason, we are approached by many off-roaders wanting a solution that can handle anything!
Click the image above or here for a great cape york 4WD camping story.
Or click here to learn what parts to upgrade to make a trailer compatible with serious offroading.
We know people! They will put any trailer to the extremes, and that's why we build all our trailers tough, and some even tougher than others.
When you make an enquiry, we will ask what your long term plans for the trailer are and cater to the build accordingly.
For heavy-duty use (i.e. steep, rough undulating roads with rain gutters), we will generally upgrade all the running gear.
For standard use (i.e. tarmac and rural dirt roads), there's no point in spending extra dollars for the heavy-duty gear you won't utilise.
Camper Trailer FAQ
What information about my camping equipment do I need to prepare for FELK?
Put simply, the size and weight of your equipment.
If there are large items (i.e. a fridge) it would also be helpful to have the dimensions.
I'm planning on using solar panels, how can we accommodate for this?
We can accommodate for solar panels within the build where possible.
Will overexposure to the sun damage the trailer?
No. Over time, the galvanised coating will inevitably fade from a nice silver to a duller silver, which is simply a factor of weather exposure.
Does it have compartment locks?
Yes, every storage compartment on the trailer is lockable.
The smallest model is 750kg GVM, how much can I fit?
The basic trailer weighs 250kg, allowing the user to store 500kg. This is suitable for people doing shorter trips and carrying some of their equipment in the tow vehicle. Our staff can help you decide whether you need to move up to 1,400kg GVM model with brakes.
How many jerry cans can I hold?
Up to four.
This will be a discussion we will have after your initial enquiry, it really depends on what you want.
A popular choice is three jerry cans (allowing space for one gas bottle holder).
What feature, accessory or modifications do you recommend?
These would be
Rear bicycle rack
Longer drawbar
Toolbox
Spare wheel
Off-road springs
Lockable flat lid with gas struts
What tyres come by default and are they suitable for off-road use?
By default, our camper trailers come with light truck tyres, which are suitable for registered roads.
People who are off-roading generally prefer to source their own tyres, so they can get the style that is suitable to match their tow vehicle.