FELK Engineering Tinnie Trailers
At Felk, we design and manufacture our tinny trailers to be reliable, light-weight and easy to use. Suitable for boats up to 4.7mtrs (15 ft), our Felk trailers are fully galvanised, multi roller trailers specially crafted to suit your tinny.
What's more, they generally range in TARE weight between 100 and 200kg, making towing, reversing and launching easy. After all, we strive to make sure that the launch is the most uneventful part of your fishing adventure.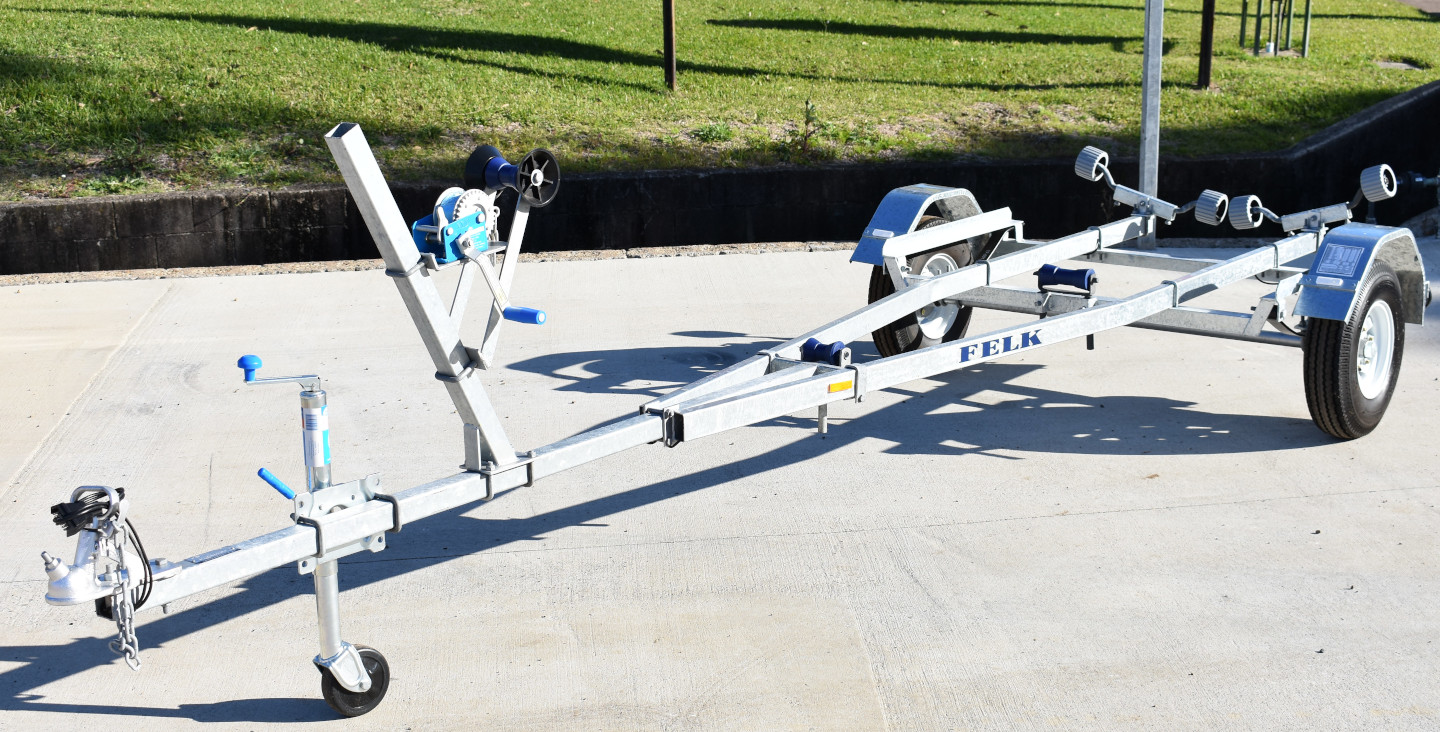 Selecting the Right Tinny Trailer
The key factors here are size and modes of use. One of the first questions our team will ask you is, how you generally launch your tinny? While our standard tinny trailer is suitable for shallow or deep boat ramp launches, there are adjustments that can be made if you're mainly doing beach launching.
When it comes to size, our experts can guide you through which is the right size for you. This is generally determined by the size of your tinny, but weight limits also play a part. In some instances, it can be wise to go up a size (GVM rating) to take into account the weight of water or gear that you will be traveling with.
If you're looking to tow something larger than 4.7mtrs (15 ft), we suggest you take a look here for more on our full range of boat trailers.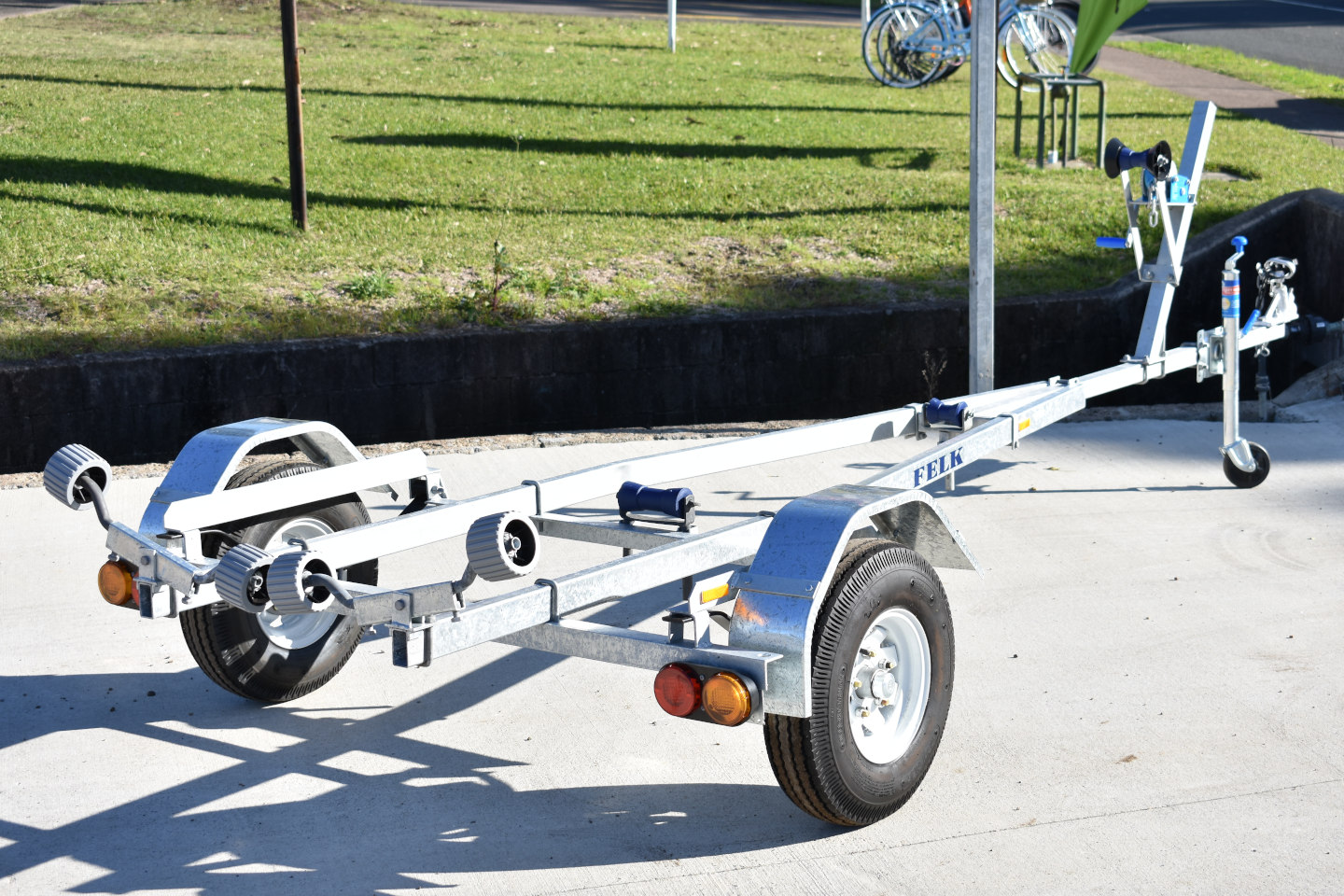 Learn More About FELK Tinnie Trailers
Fitting the tinny to the new trailer

When you buy a Felk trailer we ensure that it is the perfect fit for your craft. Our trailers all include adjustable rollers and bow posts. We ask you to bring in your tinny so we can make these adjustments and match the trailer completely.

Our service also includes an assessment and adjustment to the suspension for the correct tow ball weight, to ensure safe and smooth travel.

What happens if you change tinny models

If you upgrade your tinny, it may or may not be necessary to also upgrade your tinny trailer. At Felk, our bow posts can be adjusted up to 300mm. This means that an adjustment may be all you need to fit your new tinny to your trailer.

However, if your upgrade involves a larger, or different category, then we may need to advise that you get a different size trailer to suit.

The FELK Tinnie Trailer advantage

At Felk, we've been in the trailer business for over fifty years, and our team is committed to finding the right trailer for you.

Our trailers are all Australian designed, engineered and manufactured using quality materials. So for expert advice and quality trailers, contact us at Felk today.
Tinnie Boat Trailer Pricing
On mobile phones, please slide to the right to view the entire table below –
| | | | | | | | |
| --- | --- | --- | --- | --- | --- | --- | --- |
| MODEL # | SUITS BOATS UP TO | WHEELS | BRAKE TYPE | NUMBER OF AXELS | TARE (kg) | ATM (kg) | PRICE |
| BTR1210STD | 3.8m (12′) | 10″ | N/A | 1 | 100 | 500 | $1,400 |
| BTR1210DLX | 3.8m (12′) | 10″ | N/A | 1 | 100 | 500 | $1,831 |
| BTR1310 | 4.1m (13′) | 10″ | N/A | 1 | 120 | 600 | $1,907 |
| BTR1313 | 4.1m (13′) | 13″ | N/A | 1 | 120 | 600 | $2,006 |
All prices include 10% GST. Registration is not included. ** Prices are current as at 10th Feb 2020 and are subject to change without notice ** FELK Engineering can provide full in house registration services.