Felks have been manufacturing trailers for over 50 years. Since then, we've gained experience repairing all types of trailers.
View repair examples by clicking the photo below.
We currently have onsite for Trailers/Caravans only
3 x qualified engineers employed
2 x RMS – AUVIS   (Blue-slip) Examiners
3 x RMS – ASCIS   (Pink-slip) Examiners
1 x RMS – VSCCS  (Engineers certificates) Engineer/Licensee
This article shares a glimpse into our repair work, as well as care tips readers can take away.
The most common repaired or replaced items
The most common faults we see are:
Bearings
Brakes
Springs
Chassis rails
Crossmembers
Lights
The majority of Felks workload is repairing other trailers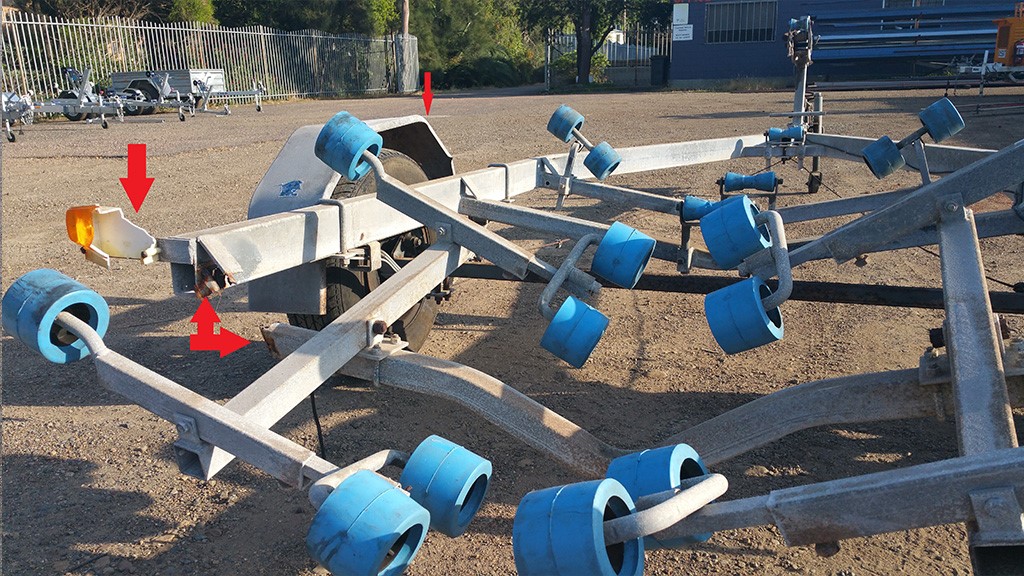 The quality behind our workmanship is extremely high, so it's rare for us to be repairing a FELK.
We would estimate 50% of our workload is due to repairs. The reason why we're repairing other manufacturers so frequently is that:
Many have closed down over the years
We own part inventories for most manufacturers
We are recognised for specialist repairs (i.e. horse floats)
We are trusted by individuals and businesses alike
We are a long term option
People know that our trailer repair centre does things right, the first time.
Common problems with trailers on the road
Naturally, as engineers, we look at trailers while we are out in the community. Here are the problems we see:
Overloaded + non-compliant
We, unfortunately, see a lot of people overloading their trailer by far exceeding their GVM capacity.
In combination with this, we see people overload trailers that do not have brakes. Brakes are required on all vehicles over 750kg GVM.
When you overload a trailer without brakes, that's a massive issue and can cause serious accidents eg. not being able to pull up and being pushed through a set of red lights or the car in front.
Rust
This is a particularly dangerous issue.
Owners should maintain awareness of rust issues from day one. A little common sense, regular servicing and best care practices should go along way to preventing rust issues. Read more about preventing rust on our boat trailers page.

Poor repair work
We've seen some pretty questionable "patch-up jobs" or temporary repairs that could be described as "bucketing water out of a sinking ship".
We've seen snapped sub-frames that are held together by a plank of wood and tie-down straps, it was a real doozy!
Repairs that seem a good idea at the time, however, are not permanent, are very dangerous.
Ride Height
This is when the tow ball and trailer are not at an appropriate height to keep the chassis level resulting in an uneven ride and could cause pitching.
A trailer needs to ride flat on the road.
These above issues are serious
When a trailer is exhibiting any of the issues described above, the owner is taking a big risk for their own safety, as well as putting other road users at risk by having a non-road-worthy vehicle.
If a trailer collapses because of these problems, I think we all know where that could lead.
We hope readers can remain more vigilant about these issues and act accordingly.
Care tips for Australian trailer owners
Maintenance is key, and prevention is better than cure.
Some people use their trailer every day, others use them once or twice a year.
Of course,  professional servicing at a trailer repair centre is the best thing you could do.
In terms of a quick check, we encourage owners to regularly walk around their trailer to inspect:
Air tyre pressure is correct
Bearings are not making noises (grating, grinding or inconsistent noises from wheel area) – good bearings are silent
Visual inspection for rust
Wash with fresh water (not soapy)
Brakes are not making strange noises (noise indicates the pads, rotors, drums or shoes require attention)
All greasable items remain greased (i.e. coupling)
Felk Engineering is an ethical trailer repair centre
Our services are comprehensive, from sales to engineering certifications, safety checks and modifications.
Our repair work ties in with our other services. As an example, we are often asked to perform a modification, however, after inspecting the trailer, we find other areas that require immediate attention, so we advise the client there's no point doing the modification unless the chassis is 100% viable.
Of course, owners have their own budgets and plans, which we try and accommodate. We make the client aware of the issues, though ultimately, it's their decision to rectify the problem.
With that said, it's our responsibility to ensure everything that leaves FELK premises is 100% safe and roadworthy.
Final thoughts
Picking up the phone and calling the first engineer you see in the phone book is probably not the best way to approach all this.
You really want to know who you're dealing with –
What's their reputation like?
Do they have positive reviews?
What's their level of experience?
What happens if I have a problem, moving forward?
In time, you'll find a repair centre that does the job correctly at a reasonable price. Typically, the words quality and cheap don't go together.
Hire a professional with experience and qualifications, you'll find that you might pay a bit more, but in the long run, you'll be miles better off.