FELK Kayak Trailers
FELK Engineering has been making well-made Kayak Trailers for over 20 years. We have constantly refined our designs to offer a professional-grade product. FELKS prides itself on the quality of our workmanship.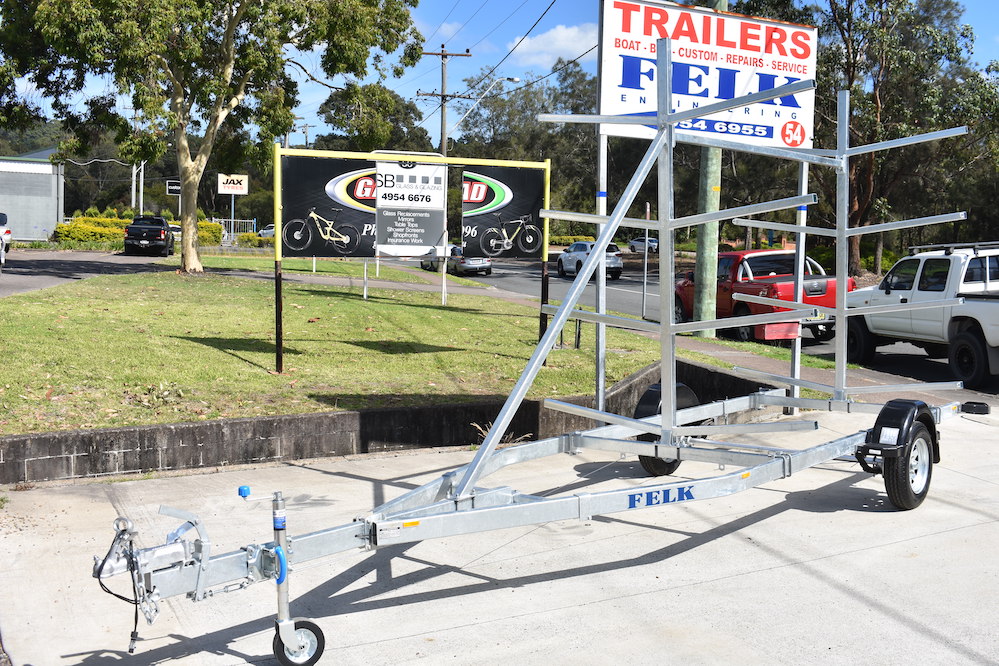 We make different types of Kayak trailers, depending on the purpose of the user. We primarily make two variations, they are:
Multipurpose Kayak Trailer – A lot of clients like to multipurpose their trailer. So we essentially build a box trailer and install custom kayak racking on the top. These allow for 1-4 kayaks. The trailer can also be used as an everyday box trailer. The racking is removable.
Dedicated Kayak Trailer – These are purpose-built trailers, typically sold to professional kayakers or kayak companies. These are essentially a hot-dipped galvanised trailer chassis with custom brackets. They can usually store anywhere from 1-12 kayaks.
While FELKS can manufacture trailers up to 4,500 kg GVM, we typically make our Kayak trailers at 750kg GVM (no brakes) because kayaks are generally light-weight.
Custom Solutions for Kayak Trailers
We would suggest that the most popular option is the Multipurpose Kayak variant. In most cases, we use a rubber-finish on the brackets to ensure the kayaks aren't scratched by the metal and aren't slippery to load/unload.
Our brackets are non-adjustable and we simply ask our client what specification of kayak they will predominantly use. For example, there is a large difference between long surf-kayaks, three person kayaks and small fishing kayaks. So we would spec the build accordingly.
We make appropriate provisions for the paddles to be stored under the bottom arm (of the bracket that supports the trailer) so the paddles can slide away underneath the kayak, but still above the trailer chassis for easy accessibility.
We are able to manufacture these with a toolbox at the front of the drawbar, so the client can store life jackets and other equipment as necessary.
Why FELKS is an Exceptional Kayak Trailer Manufacturer
To start with, FELKS has over 50 years of experience and a dedication to our craft.
We're constantly seeing new makes of hulls, in both kayaks, light boats and heavier vessels
We understand people have custom requirements, such as outriggers, which we can design around
We have worked with many different types of maritime companies
We are a family-owned, Australian company
FELKS is suitable for those who are willing to invest in a superb-quality product without compromise. For this reason, we typically aren't the cheapest.
Please use our contact page to get in touch.