FELK Golf Cart Trailers
Golf Cart trailers have been specifically designed for the use of transporting golf carts to a destination. FELK Engineering has been manufacturing golf cart trailers for over 10 years. Our models have a self tilting feature to assist in ease of loading and unloading. The trailer has a low center of gravity to keep the height down for parking in garages.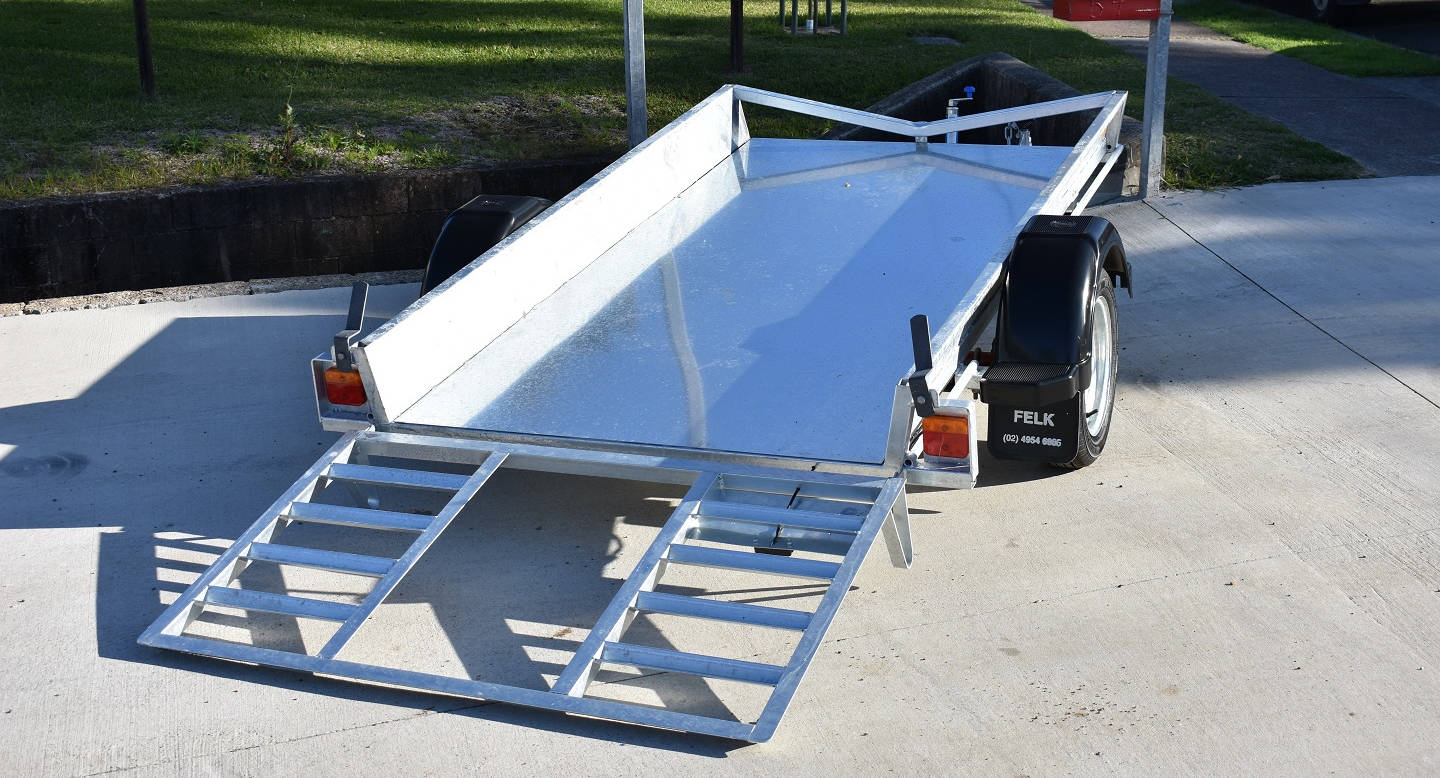 A hinging ramp system is lightweight and easy for the user to lower and lift back up into a transport position.
Please view this video to see a demonstration of the tilt and ramp system, noting this is the first time this staff member has ever tried to load a golf cart onto a trailer.
Our cart trailers are equipped with an array of tie down points so the payload can be safely secured to the trailer while in transport.
Don't make it a mulligan, make a hole in one and consider a FELK Golf Cart Trailer!
Golf Cart Trailer FAQ
Should I get a Golf Cart trailer larger than my current requirements?
Most likely, no. Cart measurements are quite standard.
We base ours off a 2400mm long by 1230mm wide base which suits all standard two seater models.
The exception would be, if you are considering a double row of seats or luxury model cart, in this case, you would get a custom model.
How is the cart fitted to the trailer?
Using a tie down strap (min 40mm) over the floor of the cart and then secured to the tie down rails on the other side.
Should I apply the handbrake of the cart?
Yes, if the cart is not designed with an automatic brake. Always use the hand-brake regardless to increase safety.
Can you manufacture a trailer that carries more than two carts?
Yes. This would be a custom solution so please contact us with your inquiry.
Can I multi-purpose a FELK golf cart trailer to double as a box trailer?
Yes, depending on your purpose. Golf cart trailers do have lower sides so they would only suit smaller jobs. There are tie rails both sides and a full 1.6mm floor.