FELK Dog Wash / Grooming Trailers
FELK Engineering manufactures a custom solution that is suitable for use as a pet-grooming trailer.
We are contacted by business owners looking to create a mobile pet washing station, fully equipped with a bath and internal storage for shampoo, scissors, leads and so on.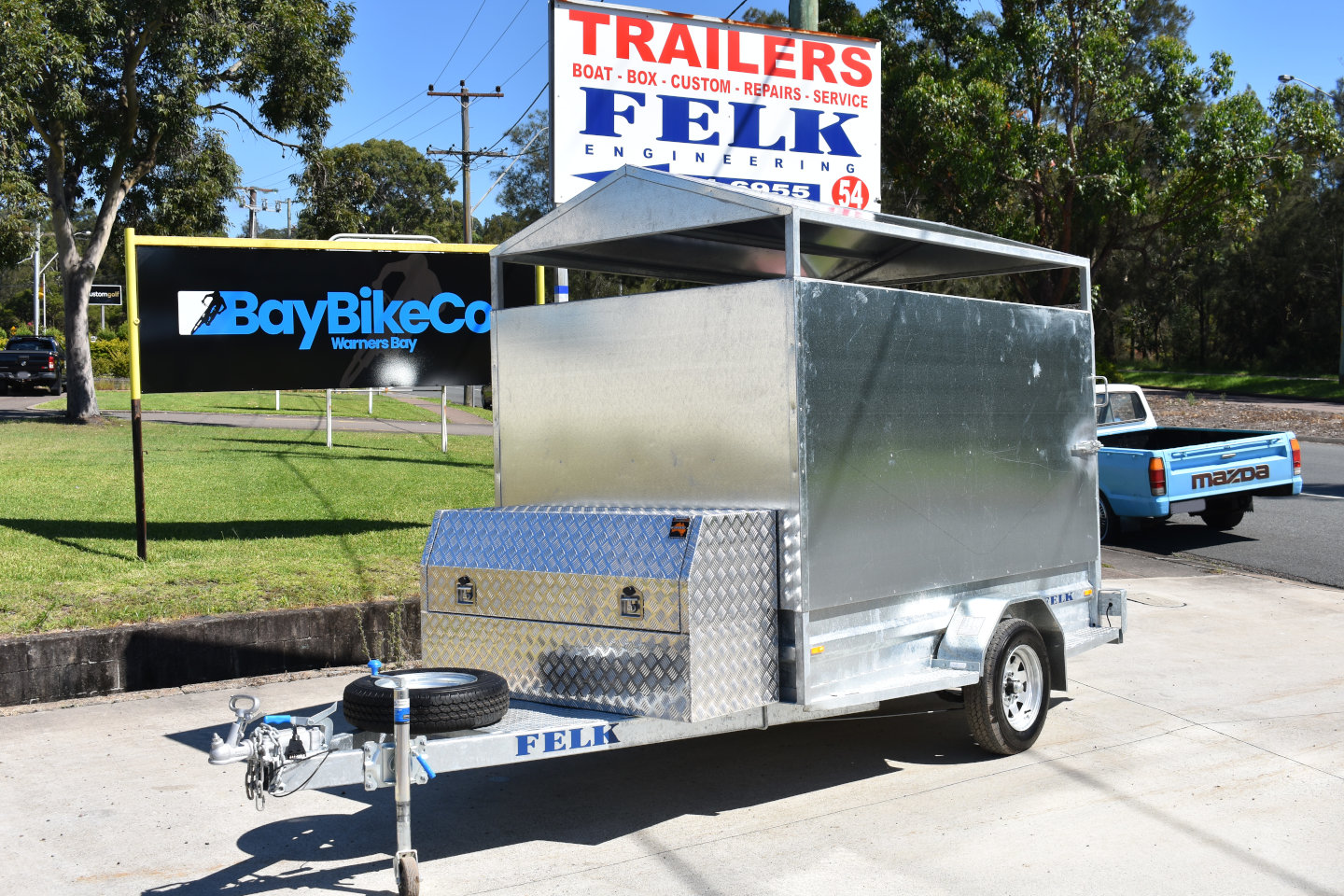 We understand that each business owner always has unique requirements, so we aim to make our trailers with contingency in mind. People have the ability to use different bath sizes, different storage, use water pumps or not as well as choose from a range of modifications.
We understand the harsh Australian road conditions. As such, we design our pet grooming trailers to be robust, functional and high-quality.
GVM Sizes for Pet Grooming Trailers
Felks has the ability to manufacture trailers from 750kg GVM all the way to 4,500kg GVM.
With that said, our Pet Grooming Trailers are typically only available in the 750kg GVM sizing.
750kg is the sweet-spot because they do not require a braking system, which saves our clients money.
Drainage
A FELK Pet Trailer is likely to see a lot of water, both from usage of the bath when washing dogs, as well as the odd rinse-down from a pressure washer.
With this in mind, we actually manufacture the floor out of aluminium checker plate, as this offers the highest level of foot-grip and resistance to rust. The remainder of the trailer is made from steel which is hot-dipped galvanized after welding.
There are 4 drainage holes drilled into each corner of the floor, allowing for adequate drainage no matter where you're parked.
Provisions for Baths and Basic Plumbing
In most cases, clients will already have a good idea of the bath sizing they want.
We simply ask for the bath dimensions you have purchased, or for you to purchase and leave the bath with us. We will then manufacture a trailer to suit.
In the photos on this page, you will see a small step next to the bath, this also serves as a housing for minor plumbing equipment. These types of features are optional.
Dog wash professionals will usually park these trailers at their client's home, and use their garden tap for water pressure. In the event where you choose a pump/solar power system, we can work alongside your chosen specialist in that field.
Please note that Felk Engineering does not sell any plumbing or electrical components.
Internal storage
FELKs understands that pet groomers will want modular and accessible internal storage for their unique equipment.
As such, here are the common ways internal storage is planned for
Metal grid-mesh – for hanging hooks, collars, leashes, etc
Internal benchtops – can fold up/down as necessary. Made of aluminium to be light-weight.
Equipment height – the height position of the benchtops and baths can be customised as per the preferences of the client and their comfort
Features of a Pet Grooming Trailer
7×5 floor size
Can be vinyl wrapped (Not by FELKs)
Secure & lockable
Gas strut assisted ramps
Checker Plate flooring for added grip
User friendly
Optional spare wheel / toolbox and other modifications
Aluminium Cladding with aluminum benches
Hot dipped galvanised chassis
These are our recommended materials
Get it Right the First Time – Contact FELK Engineering
FELK trailers are suitable for professionals who consider their Pet Grooming Trailer a long-term asset. By choosing FELK Engineering, you are investing in a blue-label, Australian product.
We provide a 3 year warranty
We employ qualified Australian engineers
Our solutions are robust and practical
To start your pet grooming build, please contact us.