Trailer Chassis Repairs by Experienced Engineers
Felk Engineering Pty Ltd has been repairing trailer chassis for over 50 years. This page describes our repair service and process.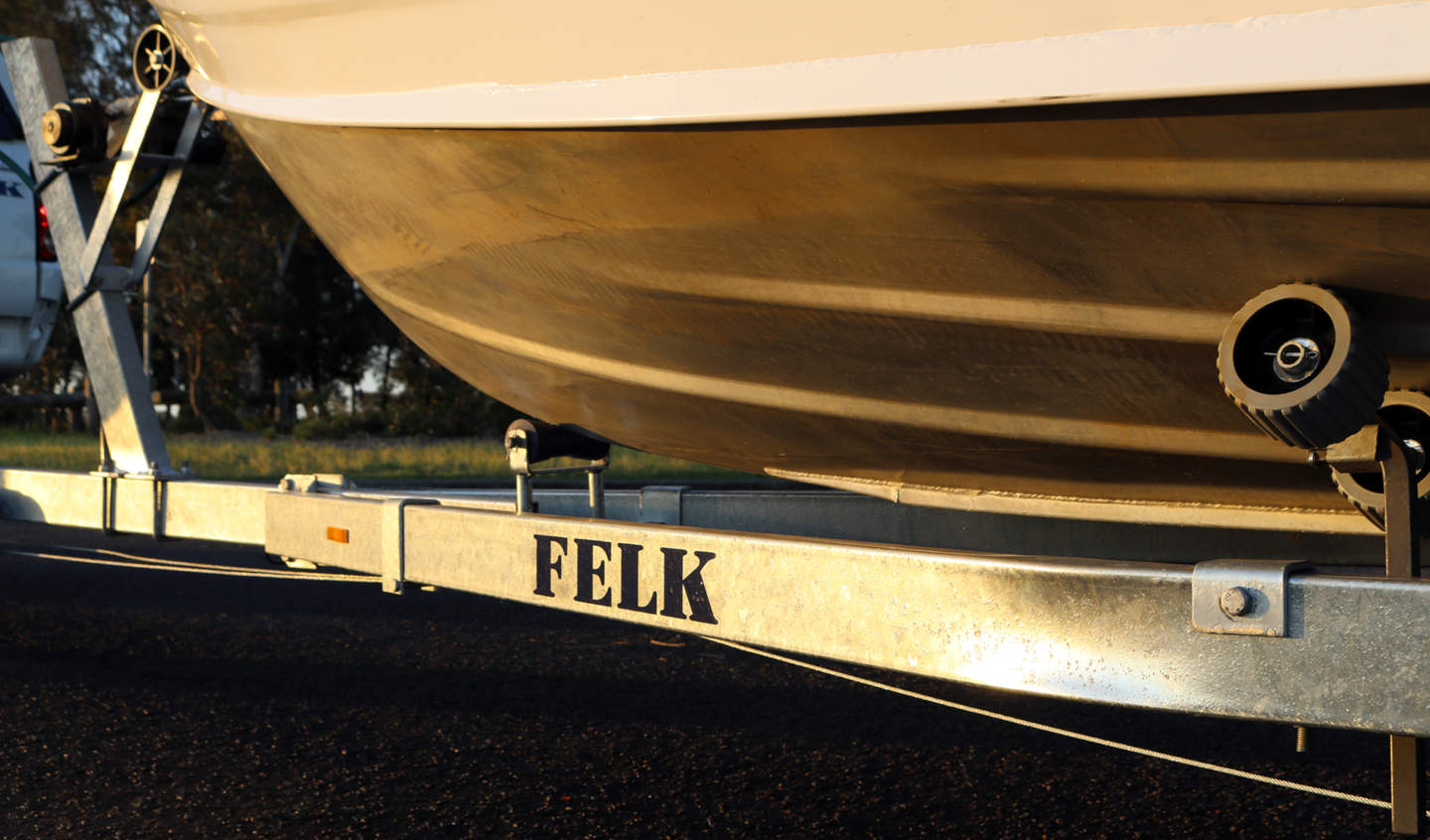 The most common reasons people request chassis repairs are due to:
Impacts:  Impacts such as car accidents can cause bending, twisting or cracking of the chassis. This also commonly occurs if the reversing is done incorrectly, causing the corner of the trailer to come into contact with the rear of the car. (We call this jack-knifing.)
Rust:  This is a very unlikely repair on FELK trailers, as our marine-grade galvanising prevents most rust. This is more common for non-hot dipped galvanized trailers. It is always best to assess and repair early, before it has the opportunity to spread.
Cracks:  Although uncommon, fractures in the chassis metal can occur. They can develop over time as a result of the trailer's age or can be brought on by an impact. In rare cases, they can be the result of driving over excessively rough surfaces, or by driving with a load that is not secured correctly (creating vibrations during travel).
Learn more about our chassis repair services
Here are some notable points for this service:
At Felk we don't only repair Felk trailers: we are happy to repair other brands too. Feel free to come in for our expert assessment of any problem areas on your existing trailer, no matter what brand it is.
Our engineers are licenced to repair trailers up to 4.5 tonne
Our repairs go beyond just bodywork; we can repair, refurbish or replace hydraulic rams as well.
Our business has operated over three generations, meaning we've been dedicated to trailers and their expert repair for over fifty years. Getting you back on the road quickly and safely is our priority. Clients are in good hands with FELK.
Assessment and repair
Our experts can examine the trailer and perform a full assessment of the extent of the damage and the correct method for repair. Trailer chassis are made from a range of materials (including carbon steel) and parts come in different widths and shape finishes (triangular, rounded, hollow etc), so our process will include selecting appropriate materials and dimensions to match the existing chassis.
Our engineers will give an honest evaluation of whether repair or replacement is the most economical option. In most instances though, our high-quality repair processes will be sufficient to have you back on the road in no time.
Once that assessment is done, we will set to work on repairing any damage or weak spots. In many cases, this will involve cutting out affected areas, replacing with new, and then reinforcing the area with purpose-built steel plates if required.
Timeframes to repair trailer chassis
Whether it's for work or personal use, we know it's hard to be without your trailer.
At Felks, we've streamlined our repair process so that more often than not we can have you back out on the road in less than five days, however, if speciality parts and galvanising is required, this may be up to 4-6 weeks. We will advise this timeframe during our assessment.
If you would like FELKS to perform your chassis repair, please navigate to our contact page or call us.