Customer Description –
The client is a large supplier of water in the Hunter region, NSW. They required a fleet of 8 trailers as a multipurpose solution to perform a variety of tasks.
Prior to FELKs, they had worked with another manufacturer who, unfortunately, are no longer in business and we were provided the opportunity to work with them. We created a proposal with careful planning from our design and engineering teams.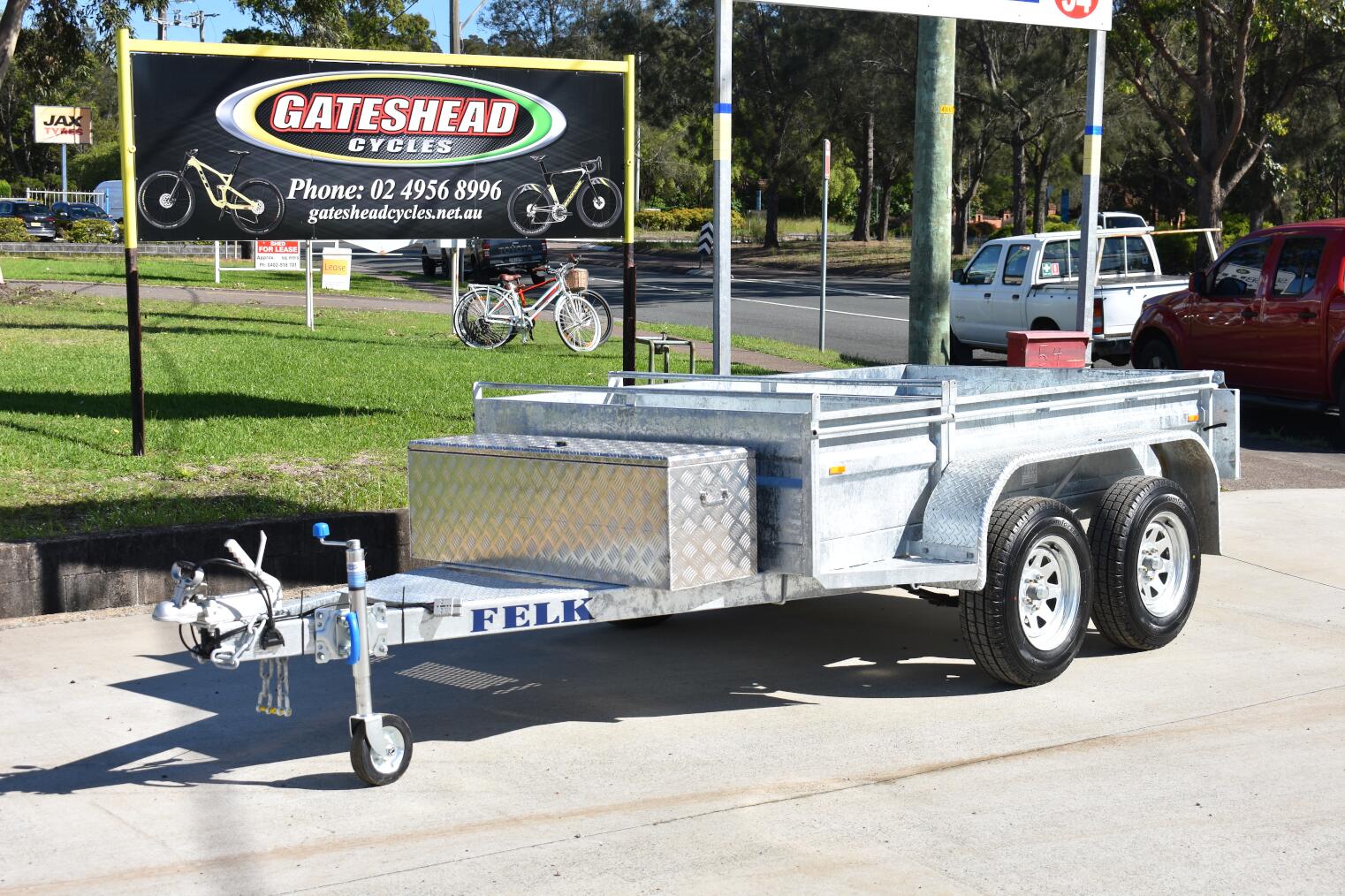 Reason for contacting FELKS – 
The client mentioned that the trailers would be used for heavy-duty purposes, every single day. They required a customised solution with an emphasis on longevity, reliability and customised purpose.
We had previously serviced their old fleet and provided parts, and through these interactions, we demonstrated that we are a reputable provider. How you do one thing, is how you do everything. 
Initial consultation – 
After a brief phone call to ensure we could deliver a customised industrial fleet on time, the client sent his specifications sheet through for our engineers to review. This is a broad overview of the functional tasks and payloads the trailers will complete in their daily life.
After being forwarded the draft specifications. Our design team refined the measurements and modifications to make the trailer as conducive as possible.
Their procurement officer even visited FELKs for a cuppa to discuss specifics surrounding the rollout schedule and customisations. We welcome visitations to provide our clients direct communication with our engineers. We take a great deal of pride delivering trailers that exceed functional requirements – on time.
Manufacturing process – 
FELKs is already highly experienced in manufacturing hydraulic tilt, custom and industrial trailers, which is a significant advantage to approach a large industrial project.
The trailer would be used to:
Do tip/waste runs
Moving a generator
Storing raw materials
Storing large portable industrial lights
Storing loose tools (shovels, etc)
2000kg GVM
After finalising the design, the build specifications were loaded into AutoCAD, allowing us to cut our hot-dipped Australian steel to form the chassis. Hydraulic mechanisms were sourced from a reputable manufacturer (including a warranty external to FELKS).
As listed above, the trailer required both storage and a tilting mechanism, which is why the trailer became a half tilting trailer. This allows the company to perform jobs without needing to remove the tools, which in turn, improves their productivity and overall output metrics.
Being a relatively large quantity order, we are able to form a type of production line and manufacture the trailers efficiently and reduce labor time. This is an example of FELKS identifying mutually beneficial savings for our clients and ourselves.
The manufacturing process went really well overall.
Customer feedback – 
The client has given us nothing but positive feedback. They're happy with the aesthetics, durability and reliability. They consider the fleet an asset, not an expense.
Project duration –
From the initial enquiry to completion, the project took approximately 6-8 weeks.
Considerations – 
The company required what we refer to as a half-hydraulic tilt trailer. The trailer was to have a hydraulic tilt in the rear box, but simultaneously having a fixed front section.
These trailers would be operated by the staff, who provided us feedback on the old trailers, which was limited by the front-to-back storage space. As a result, our design was slightly longer than the previous one, and the staff were thrilled to have the extra space.
Final thoughts – 
FELKS is extremely proud to be chosen as a manufacturer for anyone in the community, there is no customer too small to matter.
With that said, we understand our role is not just to deliver the project, but to consider the safety, performance and reliability of our fleet going to that company. We understand other businesses have their own mission to attend to, so providing trailers are safe and perform well is the best thing we can do, so they can focus on their own goals.